Being Digitalz & The Sapling Project Extend Friendship to Our Green Companions
Earlier this month, Being Digitalz carried out a petition initiative through our posts to create an awareness about the Aarey Colony's destruction. It was then that we realized how much of an impact this destruction has been causing on humanity. With the number of interactions we received, it was easy to deduce that people do care about making a difference within the environment.
With friendship day coming up on the first Sunday of August, we took it upon ourselves to celebrate an entire week of friendship - but in a unique way this time. Rather than showering our love and friendship on just humans, we decided to celebrate it with the ones who truly give us life every single moment - the trees!
Collaborating with The Sapling Project on an initiative to plant trees, our goal is to live on the greener side for a change.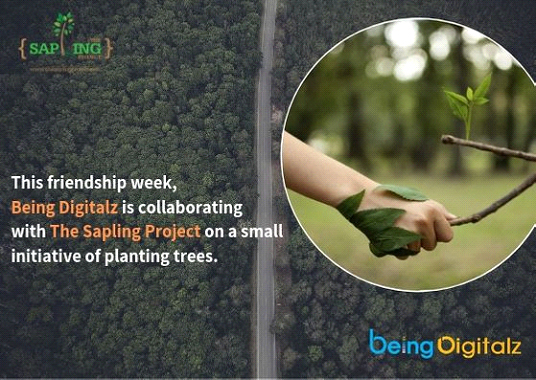 As a brand, we do our best to cover the social causes that most affect us. Ecological decline is one among many. 
Your support and participation can make a world of difference in making this project of ours a success. We need as many friends as possible to create awareness and spread the message about this initiative that can ensure a better environment for us all. By following our Instagram page, you can help us make the change we seek to make.
For every 10 followers we gain from the 29th of July until midnight of the 4th of August, 2019. We wish to plant a tree to extend a hand of friendship to the environment that works so hard to sustain its killers.
Rather than being the ones that are destroying the planet, let us be the ones that take steps to save it.
The smallest of your actions can help restore a bit what has been lost over the years.
So, this friendship week, we appeal to you to join us as friends and create a greener world.
Here's where you can participate –
Here is the link of our Instagram: https://www.instagram.com/beingdigitalz